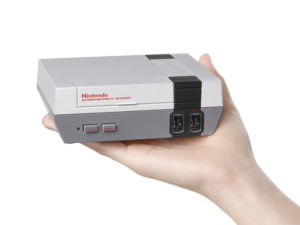 Nintendo está a la vanguardia de la tecnología de los '80s, por eso nos trae su consola clásica en versión miniatura con controles que además se pueden usar con el Wii. No sólo eso, trae incorporados muchos de los juegos más icónicos de esa consola, como:
Balloon Fight™, BUBBLE BOBBLE, Castlevania™, Castlevania II: Simon's Quest™, Donkey Kong™, Donkey Kong Jr.™, DOUBLE DRAGON II: THE REVENGE, Dr. Mario™, Excitebike™, FINAL FANTASY®, Galaga™, GHOSTS'N GOBLINS®, GRADIUS™, Ice Climber™, Kid Icarus™, Kirby's Adventure™, Mario Bros.™, MEGA MAN® 2, Metroid™, NINJA GAIDEN, PAC-MAN™, Punch-Out!!™, Featuring Mr. Dream, StarTropics™, SUPER C™, Super Mario Bros.™, Super Mario Bros. ™ 2, Super Mario Bros. ™ 3, TECMO BOWL, The Legend of Zelda™, y Zelda II: The Adventure of Link™
Al parecer sólo sale en el mercado de los EEUU este 11 de Noviembre. Gracias a todo internet que estalló con la noticia, pueden ver más detalles aquí.